Cosmetic Tattoo & Eyebrow Tattoo Courses
The 3D Feathering Microblading Cosmetic Tattoo beginners course is a 4 day course covering:
Eyebrows feathering, eyebrows hair stroke, 3D, ombre shading, design and application.
Eyeliner top & bottom and eyelash simulation. Design and application.
Lip liner design & application.
Is This Course Nationally accredited?
Yes Part of the course is the ACCREDITED infection prevention and control course HLTINF001
All theory is completed online before starting your 4 day cosmetic tattoo course and then the practical component is completed and assessed in class.
Your 4 days training consists of 1 full day of theory after you have studied your training manual (over 250 pages of very valuable training information) at home before training, then there is 3 full days of practical live hands on training where you will complete 12 procedures in cosmetic tattoo of eyebrows, eyeliner and lips. NOT only 3 procedures like other training organisations.
ATSCI is the only training organisation that allows you the maximum live practical training to maximise you're learning out come
Upon complication of the course you will be qualified and ATSCI certified to perform the above procedures and you will be awarded your certificate of competence which will qualify you to practice nationally.
The cost of the Course is $6,500+ GST 
Your training will be customised to your individual needs, learning abilities and experience.  One on one and is not in a group environment unless otherwise requested.
We can provide training for your clinic for more than one employee.  We can either train in your premises or you can come to our training school in Sydney.
If you are coming from interstate, we can organise discounted accommodation for you at your own cost.
Our training course includes :
Patient and understanding teacher trained in the US, Australia, Italy and China
Starter Kit (See details below)
Awarded your certificate of competence
Ongoing post-training support
Comprehensive training manual included
Cosmetic tattoo eyebrow and smokey eyeliner
Students who successfully complete this course will be qualified to perform semi-permanent eyebrow shading and 3D feather hair strokes, eyeliner and lip liner tattoo.
SPECIAL OFFER
Upgrade Free to Digital Cosmetic Tattoo Machine valued at $3000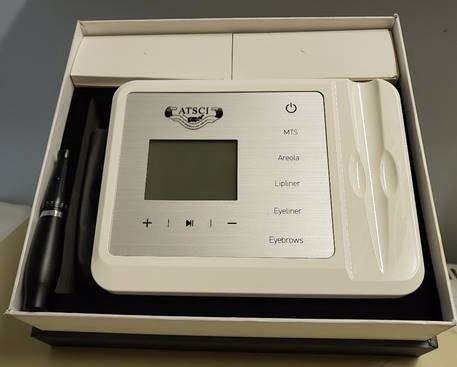 Book now to receive and upgrade the standard Cosmetic Tattoo machine to latest state of the art Digital Cosmetic Tattoo Machine and kit valued at over $3,000
State of the art latest digital cosmetic tattoo machine
Has automated setting for eyebrow, eyeliner and lipliner procedures
Only 1 disposable needle cartridge used to avoid cross contamination
The starter kit for this machine includes disposable products to preform 14 procedures at the going rate of $500 a procedure. 14 procedures x $500 = $7,000 (from your free kit) back in your pocket to pay back your course fees.
The Starter Kit Includes
Our starter kit that includes everything you need to get started, plus everything you need to complete more than 12 procedures.
Previous students have charged $500 for each of the 12 procedures, that's a total income of $6,000 which covers most of your course fees.
3d Feathering Microblading Cosmetic Tattoo Machine (1 yr warrantee)
Power board
Hand piece
Measuring tool
Disposable cord covers
Manual tool for hair stroke eyebrows
4 bottles of quality US Pigment  colors
Comprehensive training manual 250 pages
Pigment caps
Pigment holder
Colour wheel
Permanent markers
All forms required
Starting photos
After care instructions
Local anesthetic cream
Q-tips
Needles (12)

Training Agenda
Introduction:

Sterilisation
Consultation
Medical questionnaires and forms
Setting up equipment and working environment
Skin penetration act
Insurance
Theory of colours
Who needs 3D Feathering microblading cosmetic tattooing
Contraindications
Eyebrow shaping
Practise eyebrow drawing and tattooing on leather and dolls.
Pricing & advertising
Models

Activities and Assessment

Venue

Schedule & Fees

Terms and Conditions
Cancellations
As costs are incurred before the course commences, once we send out all the training manuals and training information, all course payments are non-refundable except at the discretion of ATSCI if the student can provide evidence of serious illness that may prevent the student from completing the training course.
However the student may reschedule training dates or payment may be transferrable to other courses or other students.
We will also then order your kit which is included in the cost of your course and you will receive on day one. This includes a Machine with a one year warranty which is one of the best machines that delivers exceptional results with very little effort and without compromising the skin.
ATSCI Certified Microblading Cosmetic Tattoo Courses

ATSCI Certified Paramedical Courses
Semi Permanent Microblading Cosmetic Tattoo (SPCT)
All courses come with complete course kits including equipment and pigments
:
All prices are exclusive of GST.