Paramedical Tattoo & Micro-pigmentation Courses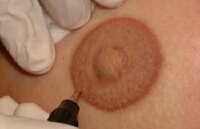 This procedure is performed for both men and women's breasts with irregular areola or to camouflage scars after reconstruction breast surgery either due to cancer or just simply the fading colour of the areola.
Clients will usually be referred to you by cosmetic or plastic surgeons for us to add that finishing touch to their surgical procedures by creating that illusion of a 3D life like areola and nipples.
These procedures not only improve the clients appearance but help rebuild their self esteem and confidence.. so it's important to associate your self with a few Surgeons in your area.
Other Information
This is a one-day advance work shop which can be added to the micro blading cosmetic tattoo beginners course. Working on the correct placement, shape and colour of the areola on the breast. Using measuring techniques to create life like 3D areola on a blank canvass or to follow the existing giving a natural look.
Models

Activities and Assessment

Venue

Terms and Conditions
Cancellations
As costs are incurred before the course commences, once we send out all the training manuals and training information, all course payments are non-refundable except at the discretion of ATSCI if the student can provide evidence of serious illness that may prevent the student from completing the training course.
However the student may reschedule training dates or payment may be transferrable to other courses or other students.
Students who require extra days training attract extra fees depending on how many days and hours are required please ask your trainer.
ATSCI Certified Microblading Cosmetic Tattoo Courses

ATSCI Certified Paramedical Courses
Semi Permanent Microblading Cosmetic Tattoo (SPCT)
All courses come with complete course kits including equipment and pigments
:
All prices are exclusive of GST.