Paramedical Tattoo & Micro-pigmentation Courses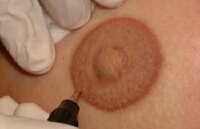 This procedure is performed for both men and women's breasts with irregular areola or to camouflage scars after reconstruction breast surgery either due to cancer or just simply the fading colour of the areola.
Clients will usually be referred to you by cosmetic or plastic surgeons for us to add that finishing touch to their surgical procedures by creating that illusion of a 3D life like areola and nipples.
These procedures not only improve the clients appearance but help rebuild their self esteem and confidence.. so it's important to associate your self with a few Surgeons in your area.
Other Information
This is a one-day advance work shop which can be added to the micro blading cosmetic tattoo beginners course. Working on the correct placement, shape and colour of the areola on the breast. Using measuring techniques to create life like 3D areola on a blank canvass or to follow the existing giving a natural look.
Models

Activities and Assessment

Venue

Terms and Conditions
Models
Each student will need to provide between 2-3 models, for each procedure taught.i.e. one procedure per model or all three procedures on the same model. If you can't provide a model, please notify us at least 3 weeks before the course, and we will advertise for you ($50 extra). you will practice on leather skin and meat skin before real clients.
Students practicing on pork skin - real look areola
The Models will be charged $100 (cash) per procedure to cover the cost of cartridges, pigment & disposables. Put it up on face book or ask family and friends – let them know they are saving $1,000 per procedure by being a model.
ATSCI Certified Microblading Cosmetic Tattoo Courses

ATSCI Certified Paramedical Courses