The Partnership Born From A Revolution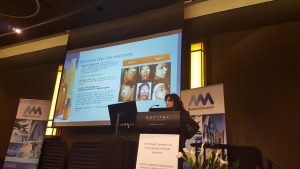 This revolution has seen a need to develop partnerships between two industries that were previously quite separate – beauty therapy and cosmetic medicine. While this union might still be in its infancy, paramedical aesthetician can play a vital role in providing safe and effective non-invasive treatments as well as pre and post op care and increase profit margins in your practice.
I often refer to the partnership between the two professions as 'Beauty and the Beast'. The therapist plays the role of Beauty, as we all know the traditional beautician's role is to beautify, and their treatments are generally non-invasive. Cosmetic physicians and surgeons earn their title because their treatment is often more aggressive and sometimes invasive. But if we follow the famous fairy tale, opposites teaming up can have a happy ending – in our case… " a successful business full of satisfied and healthy clients".
This is a great time for the developments in the skin care industry by implementing a new approach developed using the latest research in cellular rejuvenation and advancements to answering the demands of the aesthetic professionals in preventative and corrective skin non-invasive, surgical procedures in treating ageing skin with little or no down time.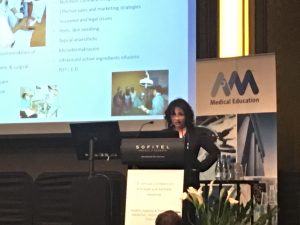 Amanda Presented at the Doctors A5M confrence in August 2016 at Melbourne Sofitel hotel to 600 Cosmetic Doctors on the benefits of having a Paramedical Aesthetician in there team and practice performing cosmetic tattoo, Laser tattoo removal and combining mechanical and chemical treatments to maximize patient results. Networking together to bring a holistic approach between Medicine and Beauty together just like "beauty and the Best"
Teaching to perform treatment programs to deliver "real results not just promises" to set you apart from your competitors and allowing you to practice alongside doctors..
These days, cosmetic physicians and surgeons are acknowledging the importance of having a PA on their team of professional staff. Either in their practice or the aesthetician's clinic. Another added benefit for physicians is that paramedical aestheticians have a huge database of clients. This creates a win-win situation for both industries. And often a physician's clients, who may not be ideally suited to significant cosmetic surgery, can find solutions with the paramedical aesthetician.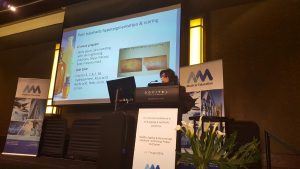 Given the explosion in the industry, cosmetic physicians and surgeons no longer have the time to perform pre and post-operative care like prescribing skin care or buffing and polishing skin and to preform non-invasive treatments for patients – and this is where a growing number of paramedical aestheticians are stepping in to fill the void.
The success of a qualified paramedical aesthetician lies in how they combine education, knowledge and experience to provide clients with a holistic result. This means going beyond text-book formulas, to create a complete program that addresses the client's specific needs
A well-educated paramedical aesthetician will utilize their skills and experience to develop solutions that exceed client expectations. Partnering up with a cosmetic physician or surgeon to enhance these results.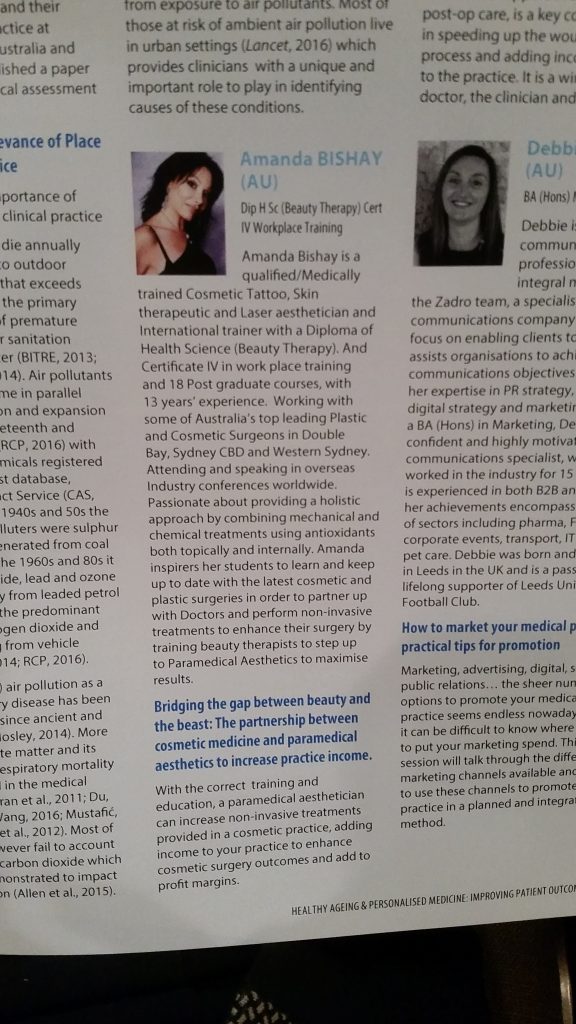 Honoured to have been a student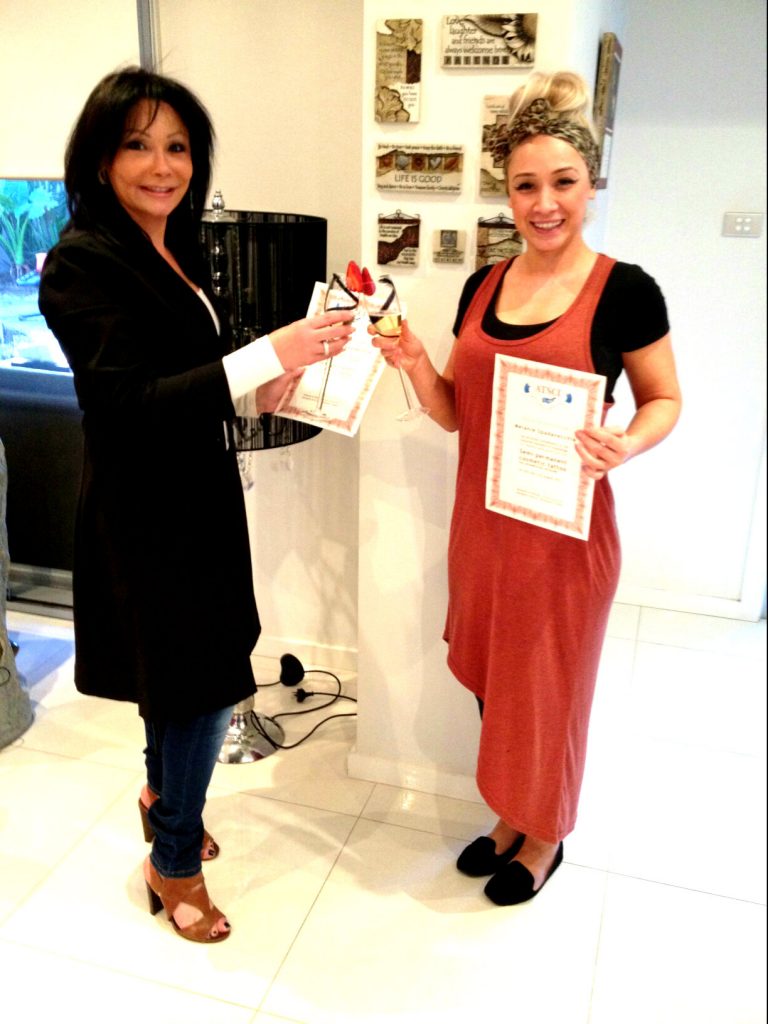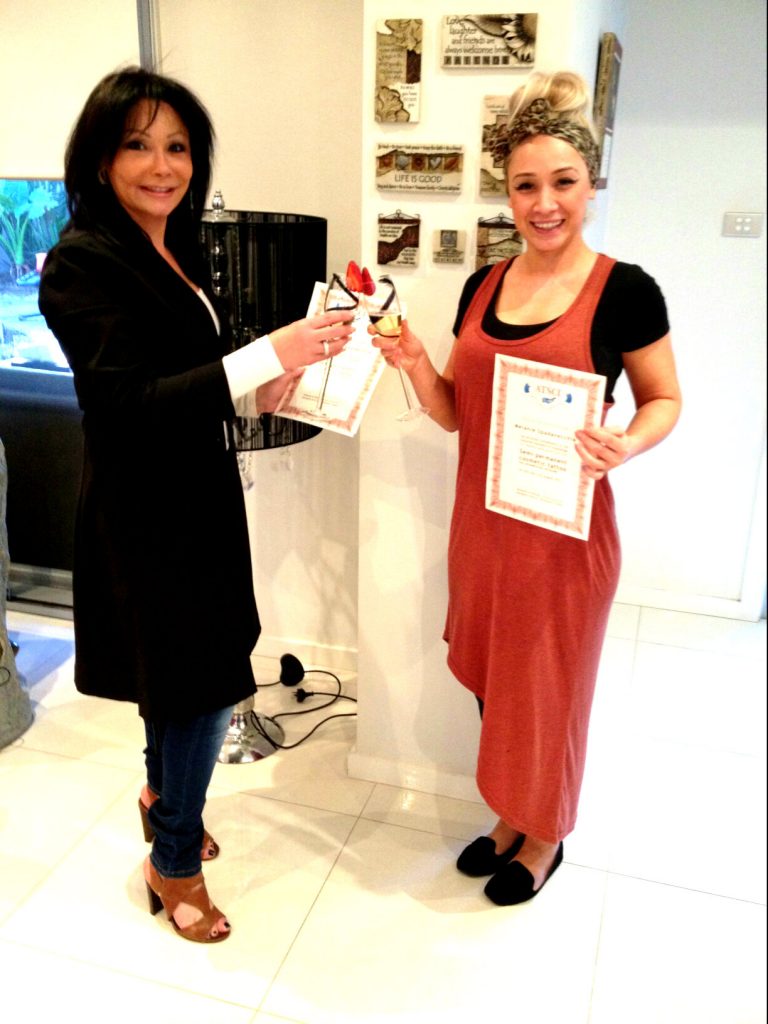 The cosmetic tattooing industry is well and truly in high demand and I could not have asked for a better trainer/educator. Amanda Bishay has so much passion and experience I am honoured to have been her student.
Through out the course I felt comfortable doing the procedure as the theory was so well presented. As the course is one on one you are guaranteed the trainers undivided attention.
It is a very laid back environment which is great when you are learning something new for the first time. Everything is done at your pace and Amanda is so helpful.
Amanda Bishay has a "can do" attitude with everything and this will definitely rub off on you by the end of the course. I am now confident in performing my own procedures and look forward to being part of this booming industry!
Melanie Spadavecchia
Vic Melbourne
0434278605
My Inspiration and Mentor
I was so glad to find Amanda from ATSCI. After doing my research and contacting several trainers and training schools I found that Amanda was so accommodating and answered all my questions over the phone without trying the hard push sale of trying to convince me I should do the course with her.  She was professional in her approach and didn't sound intimidating instead she gave me her time as I called her several times.  She promptly replied to my email and satisfied all enquiries happily.
The course was so easy as she did not rush and ensured I understood all information in each module before she move to the next.  Also being taught one on one meant that I had her undivided attention.  No question was ever a stupid question with Amanda, she showed genuine interest and passion as she taught.  2 years on after I completed the course she continues to promptly answers my email and enquiries and continues to teach me something new every time I contact her she has been my inspiration and mentor.
Thank you Amanda for giving me the opportunity to expand my career!
Tina Melb.
0422170008
An amazing trainer delivery of all information
Amanda was an amazing trainer I have done 2 cosmetic tattoo courses and was not confident enough to start practicing so I contacted Amanda and started my 4 days training.  The theory component was in detail and written in a way I could understand.  she sent me my 150 pages training manual (my previous trainers manual was only 15 pages long) 3 weeks before training for me to read.  The first day of training was amazing and I comprehended everything.  She knew how to deliver the information and she was so good with colour theory which was not covered in my previous training. The practical was also amazing as I had her undivided attention and although I also had cosmetic tattooing my self none of my previous trainers showed me any of the necessary steps and detailed skills to perform safe and effective cosmetic tattooing. Which allowed me to practice right away and get great safe results..
thanks Amanda "you're amazing"
Sue Milad, 0415935035
Sydney, NSW
Helpful, Understanding and a Great Person
Hi my name is Rosemary Ishak from Define Hair Design & Beauty. I am hairdresser and beautician and have been doing it for 5yrs, but I've always wanted to expand and make more of my career.
I bought a salon and thought to do cosmetic tattoo course. I shopped around and found that ATSCI had the most reasonable and best-priced course. I met Amanda Bishay and thought she was a great, understanding person. We got talking and I signed up for the cosmetic tattooing course.
From day one Amanda was so helpful and showed me everything I needed to know. I first thought I couldn't go through with the course because I was scared of needles. Amanda helped me get over the fear and made me feel much more confident. Now I have a big clientele in cosmetic tattoo and getting great results. I would recommend this course to anyone who wants to make a great career or expand a business.
Thank you for teaching me Amanda!
Rosemary Ishak
Define Hair Design & Beauty
Knowledgeable, Patient and Extremely Helpful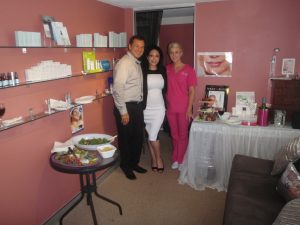 "We could not have asked for a teacher more knowledgeable, patient and extremely helping and encouraging than Amanda.
Amanda took the time to teach the theoretical requirements of a paramedical and then tailored the rest of the course to suit our specific needs in our skinfinite clinics, which incorporated, Radio Frequency, IPL and Needling to use in conjunction with skin care to get the best results for our clients.
Amanda has given us information that we can use and keep for a lifetime and her knowledge has allowed Jim and I to have a lot more confidence in our career path, she is now a lovely friend of ours that we can call on for any advice or assistance."
Laura & Jim
Queensland
Professional, Friendly and Competent
Dear Amanda,
I just wanted to thank you for the opportunity to do the Cosmetic Tattoo Course.  I really enjoyed the course.  I really learnt a lot from you about how to put that smile on people's face and bring out the inner and outer beauty in them.
You were very professional, competent and very friendly and approachable trainer. The most important thing I learnt was how to choose the right color and shape for each individual client which pleases me when I see how happy and satisfied my clients are, this is so rewarding!
Thank you once again not just for training but for the confidence and the advice you gave me as you were always there even after training to provide support and advice when I needed it.
Many Thanks,
Nawal Torbey
NSW
0406639993
Genuine and passionate about being an instructor
I just wanted to take this opportunity to congratulate Amanda Bishay for her exceptional standard in teaching, her supportive attitude and for skillfully guiding me to confidently acquire the essential skills necessary to practice professionally in the beauty industry.
I originally stumbled across ATSCI when I was researching where the best place I could study cosmetic tattooing.
At first I was apprehensive because I'd hadn't heard of this school, but after consulting with Amanda I felt at ease and instantly knew who I was going to study with, (even after I had spoken to several other schools before speaking with Amanda).
The level of education and skills that she has developed over the many years studying and working in the beauty industry combined with the advantage of having access to direct medical support has set her apart from her peers.
I found Amanda to be genuine and is unashamedly passionate in her capacity as a teacher. The fact that she has been in this industry for a long time and is well respected amongst her peers is a testament to her distinction and integrity. I am confident that she will continue to thrive in this industry for many years to come.
Lillian
NSW