Skin Needling & Dry Needling Courses
1 day work shop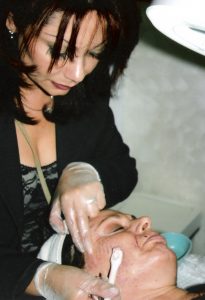 This is very much a hands-on workshop on how to reduce scars and wrinkles with a simple needling technique. You will receive both the digital machine and manual skin rollers in your kit which is included in your course fees.
This technique will stimulate natural collagen to reduce acne pit scarring and improve skin texture and skin tone.
It dramatically improves skin texture and tone as well as stimulating collagen synthesis.
This is a natural and safe procedure that does not involve the implanting of any foreign body. Training with manual and digital skin needling machines.
Most trainers only teach dry needling or in conjunction with hyaluronic acid but that is an unfinished treatment.. learn the benefits of antioxidants and understand active ingredients and their benefits to maximise results apply active ingredient water-based solutions indicated for each skin condition.
Please ensure your trainer understands this procedure is not recommended for active acne as you will be spreading the bacteria. no is it indicated for dark skinned clients with pigmentation as this will only stimulate more hyperpigmentation.  I pride myself in the delivery of the correct information understanding skin anatomy and physiology so as not to compromise the skin so one need to understand what they are doing rather than be walking text books following steps 1, 2 and 3.
YOU MAY ALSO WANT TO CHECK OUT OUR 3 DAY PARAMEDICAL COURSE WHICH INCLUDES SKIN NEEDLING BUT IT TEACHES YOU TO TREAT ALL SKIN CONDITIONS SO YOU ARE NOT LIMITED AND YOU HAVE MORE KNOWLEDGE USING BOTH CHEMICAL AND MECHANICAL TREATMENTS TO DELIVER REMARKABLE RESULTS.
Your kit comes complete (included in your course fees) with the following:
2 x skin needling rollers
1 x digital machine
4 x digital needles
3 x serums vitamin C, A
Hyaluronic acid
4 x sterile dressing kits
Digital Skin needling machine
The latest and state of the art Digital pen is included, comes with 2 batteries
Course Fees

Venue

Terms and Conditions

Cancellations
$1700 + gst
Ring Amanda for details: 0433 135 381 or email: amanda@atsci.com.au
ATSCI Certified Microblading Cosmetic Tattoo Courses

ATSCI Certified Paramedical Courses